Loving the new 909
---
Ryan Haran always wanted to enjoy the aroma that only a brand new truck can give. But he had a few lessons to learn before he reached that landmark acquisition.
When it comes to truck drivers there seems to be very distinct categories they can be divided into. There are those who drive trucks purely as a job like any other, viewing their profession as quite simply a job to which they attend in return for a wage or income.
Some radiate into the trucking industry, lured by the attractive income potential (by working long and hard hours) to provide a secure lifestyle for themselves and their family.
Then there are those who are perhaps products of their environment, exposed to the trucking life by fathers or family members throughout their formative years; an exposure that can seem to have a direct impact on their very DNA, forming a passion so deep that they end up living and breathing trucking. Trucking to these is more than just a job or pay packet, it's part of their very being. It defines who they are.
---
Kenworth's SAR legends, past and future
---
Ryan Haran of Bargo, NSW-based Haran Haulage definitely fits into this latter category.
Influenced from a young age by his father's and grandfather's connections with trucks, Ryan was almost preordained to become a third-generation truck driver.
A young kid whose childhood bedroom wall was decorated with truck posters, Ryan recalls school holidays and weekends as a kid, riding in his dad's truck at all hours of the night and day, washing trucks and helping with maintenance and loving every minute of it. Perhaps more by consequence rather than desire, Ryan's Dad was unwittingly sewing the seed of the transport industry from an early age.
Not overly stimulated by school, Ryan left after completing year 10, entering into an apprenticeship as a diesel mechanic at the Suttons Kenworth dealership in Arncliffe, Sydney; an introduction to Kenworth trucks that would influence his choice of trucks later in life.
"Dad guided me towards the diesel mechanic career after I left school," Ryan recalls. "He knew I was into trucks and enjoyed helping work on his, but deep down all I wanted to do was drive a truck, more specifically, own my own truck.
"Even at this early age, I dreamed of one day buying a brand-new truck."
Ryan's dad did all he could to dissuade him from becoming a truck driver; he wanted Ryan to do something else, which is why he steered him towards the diesel mechanic role. It seemed a logical solution but his desire to drive was strong.
Ryan soon realised that while working on his dad's trucks and keeping them clean and maintained was a cool thing for a young kid to be doing on the weekend. But repairing the trucks of others, including unglamorous garbage trucks, didn't seem to hold the same appeal. Ryan was questioning whether he could actually see out the apprenticeship.
As fathers do, wanting the best for their kids, Ryan's dad was adamant that he would finish his apprenticeship, but Ryan had other ideas.
Unfortunately, the authorities don't hand out truck licenses to 16-year-old kids straight out of school, no matter how passionate they are. So the dangling carrot of the truck licence seemed just that little bit out of reach. Undeterred, Ryan began hatching a plan to set the wheels in motion to get his first truck.
"A friend of my dad's was running a small landscape and nursery supply business at around the time that I was getting closer to being old enough to get my P-plates," Ryan explains. The business had around 10 rigid trucks working within it and they were all
sub-contractors.
"Quite behind dad's back I approached the manager friend and asked if there were any trucks for sale, but unfortunately at the time there wasn't so I left my number with him and continued working as a mechanic. Six months later he called me and said one had come up for sale and asked if I was interested? Of course I was!
"I went home and told dad I was going to buy this particular truck, to which he responded, 'No, you're not, you're only a bit over two years into your apprenticeship. Stick it out.'"
Financial equation
Resistance was futile – a trucking career journey plan had already been mapped out in Ryan's head. He'd done the figures and worked out the timeline on licence class progression, reckoning that he could have his MC licence and his own prime mover by the age of 20. What Ryan hadn't worked out was how he was going to bankroll the purchase of this first truck.
At an asking price of $60k, for an apprentice earning $130 dollars per week, this was kind of a big problem, not to mention the equally sizeable problem of not even having his P-plates yet.
Ultimately, Ryan got a loan from 'the bank of dad', a gesture I get the impression didn't come easily to Ryan's parents. He remembers overhearing conversations between his parent about the subject and the financial pressures it could bring if things didn't work out.
"I had to get a permit to get a HR licence because of my age, but to get the permit approved I had to bring in that actual truck 75 per cent loaded to the RTA and pass a driving test with one of their examiners," Ryan explains.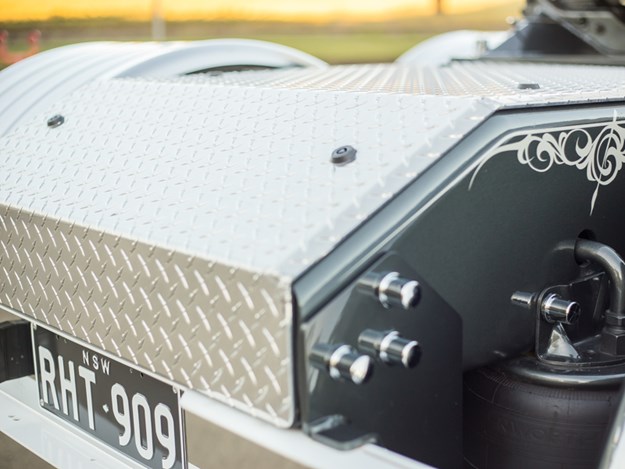 "This meant effectively I had to buy the truck and then go for the driving test to see if they would issue a permit to drive it. The pressure was on because if they didn't approve the permit, I would have had to wait another 12 months before I could actually drive the truck I had just bought.
"Dad did end up helping me get that first truck and I got the permit. I didn't want to disappoint him by failing, so I worked hard.
"I was now an owner-driver at the age of 17, proudly driving around in my 6-tonne Daihatsu Delta with shiny chrome nut covers, heaps of extra lights and P-plates displayed front and rear. I thought I was king of the road," Ryan laughs.
Work for Ryan and his trusty Daihatsu was plentiful and things were going well, but in line with his career plan he had to continue climbing the licence class ladder. He obtained his HC and got some weekend semi-trailer work doing 'dog runs' out west and other various loads for Bunker Freightlines, a job he landed through a family friend.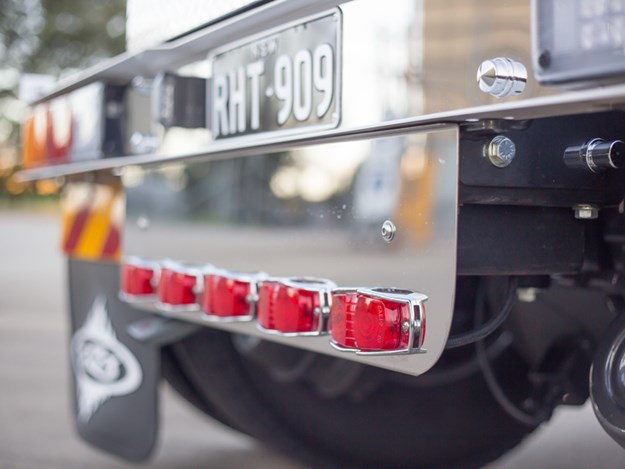 The experience gained doing this work eventually imparted enough confidence to sell the Daihatsu and continue his pre mapped career journey, although this would require working for someone else as an employee for a time.
"Going back to work for someone else didn't bother me. It was a means to an end and all part of my grand plan. I would secure work at companies that used a lot of sub-contractors, with hopes of getting my own truck in with them if an opportunity arose.
"I was also gaining valuable experience along the way … I was 19-years old and running interstate, full time."
Through a friend, Ryan got a job with transport company Patrick as an employee driver, covering interstate and regional runs. Very early on in the stint with Patrick, Ryan made his aspirations clear to the manager – he wanted to be an owner-driver again and if an opportunity came up, he would like to hear about it.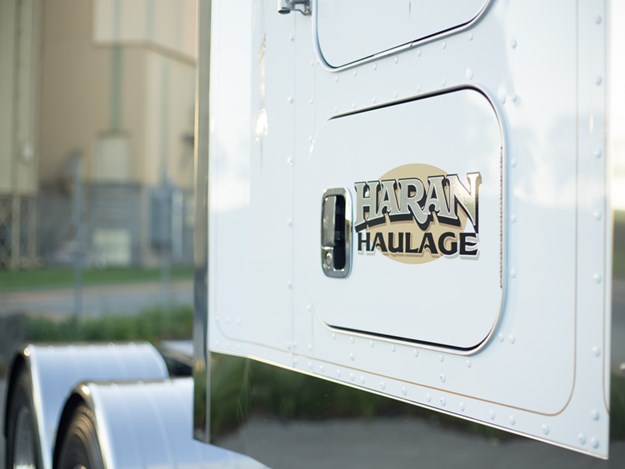 Anteater adventures
After around 12-months, Ryan was offered a sub-contractor position with Patrick. It was to be three to four nights a week running to Canberra at night with the balance of work made up with local jobs.
"The manager told me straight up, 'don't spend too much money on a truck, I can't guarantee an income, but if you're good to us we'll be good to you'," Ryan recalls.
This may well have been critical business advice. Ryan had always dreamed of buying a brand-new truck, but now was not the time.
By the time he got the opportunity to buy that first prime mover, Ryan was 24-years-old and now married to his long-term partner Kirsten. They were renting a house and had saved a bit of money for a house deposit.
"I had a few dirt bikes and items of value in the shed which I sold and with that, combined with the money we had saved for the house deposit, we scraped up enough money to buy that first truck, a well-worn Kenworth T600 Anteater."
Some might think that redirecting cash from a house deposit into a truck might not be the easiest of things to convince a wife to do, but Ryan goes on to clarify: "Early on in our relationship I explained to Kirsten what I was like and how I live for my job, I have an emotional investment in my career, trucks are a huge part of my life, which she is very understanding of.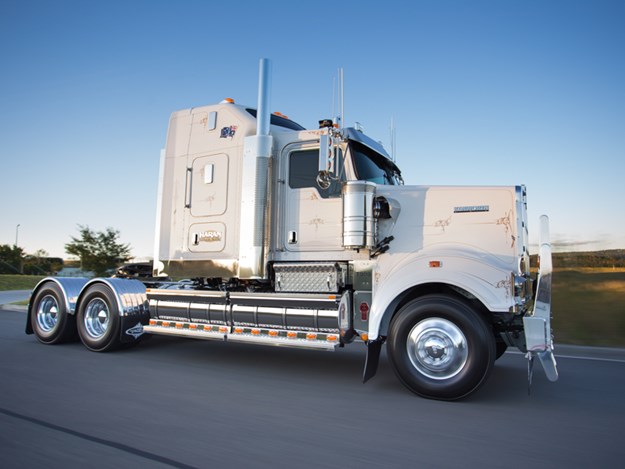 "In fact, if she needed any convincing early on, she got it. Our first date was to the Penrith Truck Show," Ryan laughs.
According to Ryan, the T600's N14 Cummins engine leaked oil from most of its joints and breathed heavier than an angry dragon. Unable to afford a rebuild, he investigated the benefits of a de-carboniser treatment he had seen in a magazine ad. After ringing the number and speaking with the sales guy, who insisted this was the 'holy grail' he needed, Ryan thought he didn't have much to lose.
Interestingly, with the use of the de-carboniser treatment combined with investing a lot of time and intense research into quality oils and their subsequent use, Ryan says the engine oil leaks reduced to more manageable weeps, easily repaired with a can of degreaser and a weekly pressure wash – and the oil consumption stopped. This process rejuvenated the tired old 600 enough for Ryan to run it for a few years with the combination of the de-carboniser and quality oils helping him to make good money.
Preventative maintenance
Eventually the T600 succumbed to a cracked head and a decision was made to retire it (it was eventually repaired and used in the company operation later). Still resisting the urge to get that brand new truck he so desperately desired, the T600 was replaced with an ex-SRV Road Freight Services T904, which at the time was being driven by one of his mates.
According to Ryan, that ex-SRV T904 purchase was one of the best decisions he made.
"The truck had 1.4-million kilometres on it when I bought it, and had received a rebuild at 1.2 million. That truck in all the years I had it never left me broken down on the side of the road.
"I was running it full time on interstate work – Sydney, Melbourne, Brisbane and Adelaide – and it had 2.6-million kilometres on it when I sold it. It was a freak of a truck."
Ryan puts the reliability and longevity of that T904 down to the preventative maintenance the original owners put into it.
"Before I bought the truck I was sent the service and maintenance history for the truck from SRV. Those guys documented every detail of its maintenance, down to every time the truck was greased.
"All serviceable items that were replaced throughout its life were quality parts and I believe that this contributed to the great run I had from that truck. That truck was a good gamble," Ryan recalls.
For a time, things were looking really good for Haran Haulage. Ryan was driving the T904, the T600 had the engine rebuilt and he had put a driver in that, and another K108 joined the fleet which also included eight trailers.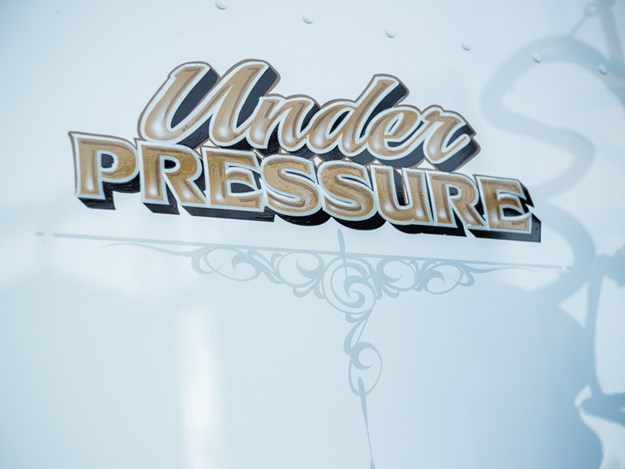 Then the Global Financial Crisis (GFC) hit and things turned sour. Ryan admits this was an extremely tough time; he was still paying his drivers even though work had dried up. Bills were mounting and the option of winding up the business was considered.
A plan was formed to continue the business in a reduced capacity, which meant selling some assets and necessitating the need to put off his drivers. This aspect of the GFC fallout weighed heavily on Ryan's mind, so much so that he offered to continue to pay his drivers until they found other work.
In hindsight, I wonder if Ryan had bought a brand-new truck and taken on greater debt instead of buying the used SRV T904 would that combined with the GFC have been the tipping point to end his company's aspirations.
As history records, the economy bounced back and things improved for Haran Haulage, which for now continues to operate as a single truck business.
With stability comes confidence. Ryan has been working for a national company, towing a company-owned powder tanker, and for Ryan the time seemed right. Just weeks ago, Haran Haulage took delivery of its first ever brand-new truck, fulfilling the dream of a truck-crazy kid.
Proud as punch, Ryan took delivery of his T909, purchased from Twin City Trucks in Wodonga. It has been perfectly customised to Ryan's preferences – and why wouldn't it? He has had a long time to think through exactly what he wanted.
Fitted with a Cummins X15 engine rated at 615hp (459kW) and 2,050ft-lb of torque driving through an 18-speed manual transmission, the truck will make light work of the single trailer work.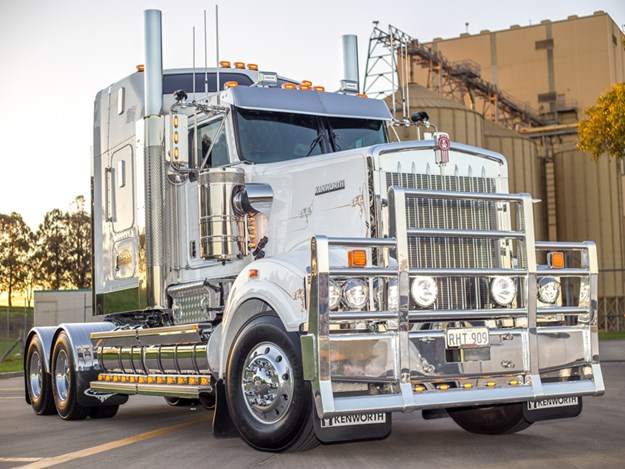 Just the right amount of personalisation has been added to the truck to Ryan's taste by both Twin City Trucks and Klos Custom Trucks. Stainless tank wraps, deck plates, stainless wrapped mirrors, headlight eyelets, wing trims, bug trims, stainless ribbed guards, paint and chassis scrolling and a plethora of LED lighting all combine to individualise the truck without going over the top.
It looks as though patience has paid off and some 21 years or so after buying that first Daihatsu Delta, Ryan now gets to experience that new truck smell.
Subscribe to our newsletter
Sign up to receive the Owner Driver e-newsletter, digital magazine and other offers we choose to share with you straight to your inbox
You can also follow our updates by liking us on Facebook. 

Trucks For Hire | Forklifts For Hire | Cranes For Hire | Generators For Hire | Transportable Buildings For Hire