Scania R770 talks the torque
---
Never before in its 50-year history in Australia has Scania been stronger or had more to offer, including the recent deployment of the R770, the world's most powerful production truck. In this short sample behind the wheel, we find a gentle giant equipped with road manners every bit as impressive as the mountainous muscle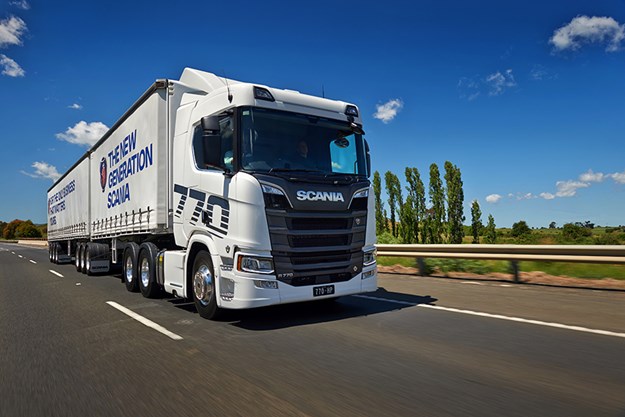 As 2021 drew to a close, sales numbers were looking exceptionally good for Scania Australia. The strong likelihood was that it would be another record result, eclipsing the previous best performance of 1,140 deliveries achieved just two years earlier.
It wasn't to be, though. Not quite! A poor month in December took a sliver of gloss off an otherwise strong year, with Truck Industry Council (TIC) figures showing Scania finishing 2021 with 1,129 deliveries for 8.7 per cent of the total heavy-duty truck market.
Agonisingly, just 11 units shy of the brand's best ever result but, given all the problematic pandemic-related issues, still an undeniably positive performance in a year of continuing challenges. Or so you'd think.
Despite the brand's resilience after the COVID-constrained results of 2020, there are those in Scania Australia who justifiably assert last year's result could have, and indeed should have, been better. Significantly better, and it's easy to appreciate their reasons for feeling a tad frustrated by 2021's figures, even if those same numbers a few years ago would have had company insiders happier than a flea at a dog show.
So, why the subdued smiles after such a strong result?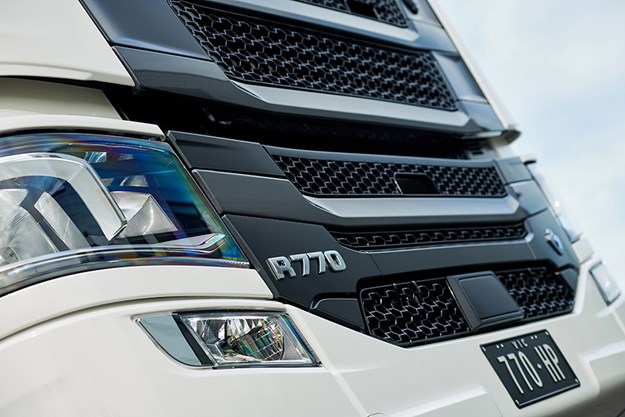 Well, there are several contributing factors but perhaps the most fundamental is that the Australian heavy-duty truck market is running hot and demand for new trucks (bolstered by a Federal Government instant asset write-off scheme) is dramatically greater than supply, meaning it's much easier to take orders for new trucks than it is to actually deliver them.
Scania, of course, is not alone in its frustration as many makes endure production shortfalls keeping a brake on potential. Nonetheless, the supply issue should not come as a complete surprise to anyone, least of all Scania Australia insiders. After all, incumbent managing director Mikael Jansson had expressed those same issues during a remarkably candid interview a year earlier.
Citing a strong order bank despite intermittent flows through supply channels, a forthright Jansson said the issues are two-fold: "One is the shortage of semi-conductors [essentially, the micro components of the electronic control systems at the heart of almost every automotive product in the world today]. That is a global problem but how much it will impact us is somewhat unknown, but it is a big challenge for everyone."
The other supply challenge, he explained, is the ongoing high level of international demand for Scania's NTG range, the New Truck Generation, which made its Australian debut in the front half of 2018.
"So, it's a fight to get capacity from production, but the ramp up to get higher volumes at the factory is impacted by suppliers in Europe who in this COVID time can't ramp up at the pace we all want."
Therefore: "We will not get the supply this year [2021] that we want from Europe," he predicted.
Still, Jansson was quick to jump to the positives.
"We have an order book now we have never seen before," he said seriously, predicting a strong market for heavy-duty trucks in 2021 and potentially, another record year for Scania.
"I'm confident we will get to 1,200 sales," he enthused before cautiously adding a proviso.
"The supply issue may stop us from reaching that figure but, from what we know at this moment, we will deliver over 1,000 trucks. The order book is just so strong."
As the figures now confirm, the caution was warranted.
Meantime, there are now strong hints that Scania's order book for 2022 and even early '23 are already at entirely new levels as acceptance of its NTG range and interest in new product initiatives continue to build. 
Punching ahead
Yet, sales figures weren't the only revelations forthcoming from Jansson in what was his first one-on-one interview since taking the reins at Scania Australia three years earlier.
"We now have horsepower more in line with the competition and that will be good for us," he said in reference to the addition last year of a 540hp (403kW) version of Scania's sprightly 13-litre six- cylinder engine.
As he was eager to add, however, the introduction of a more muscled six-cylinder engine was just the tip of the performance iceberg. As we're now aware, there's every chance the 540 will be superseded by a 560hp (418kW) version later this year, a development sure to give Scania a distinct performance advantage over its continental competitors in the 13-litre class.
But, when it comes to bragging rights in the big bore business, a justifiably upbeat Jansson pointed to the upcoming local release of a vastly updated V8 range headed by a 770hp (566kW) version of Scania's seemingly indomitable 16.4-litre double banker, ending the reign of Volvo's FH750 as the world's most powerful production truck.
As he explained, the plan was to have the first small batch of 770s arrive late in 2021 and, after being suitably prepared for a range of demonstration duties during 2022 – from heavy-duty roadtrain work with an initial gross combination mass (GCM) rating of 135 tonnes, and a standard 92-tonne GCM version for eastern applications – Scania's new flag-bearer will be later this year joined by 660hp (492kW) and 590hp (440kW) versions of the substantially revamped V8.
Indeed, the order book for the 770 is already open.
We can also confirm that peak torque outputs of the new Scania V8s are truly tenacious: At the top of the tree, the 770 has a chart-topping 3,700Nm (2,729lb-ft) of torque on tap from 1,000 to 1,450rpm, the 660 produces a prodigious 3,300Nm (2,434lb-ft) between 950 and 1,400rpm and the 590, a healthy 3,050Nm (2,250lb-ft) from 925 to 1,350rpm.
It's worth noting at this point that there's also a 530hp (395kW) V8 rating available in Europe but with a 13-litre 560 on the agenda, there's little scope and probably less interest in a lower-powered V8 for the Australian market.
All three of Scania Australia's new V8 ratings will be Euro 6 models but at this stage, only the 660 and 590 will be coupled to an entirely new Opticruise 14-speed automated transmission designed to work more efficiently with the big bore V8. In its first form, the new box is known as the G33CM, designating 3,300Nm torque capacity and constant-mesh gearing.
For now, though, and no doubt due to its mountainous torque output, the 770 will retain the inherent durability of the existing Opticruise GRS 14-speed overdrive shifter, which for a decade and more, has proved itself in Scania's superseded 730hp model. Even so, there's no question a beefed-up version the new Opticruise transmission will soon enough find its way into the biggest of Scania's big bangers.
Wisely, Scania Australia says it will continue to offer its popular Euro 5 620hp V8, mated to the new G33CM shifter.
New transmission technology plays a big part in Scania's plans to enhance both performance and fuel efficiency of its V8 and six-cylinder line-ups, and while Opticruise has been the name given to the brand's automated shifter since the early 1990s, company officials are quick to emphasise that this latest version is entirely new.
Apart from continuing with a 12-speed plus two crawler gears format, Scania reports its latest Opticruise family has no parts in common with the existing design and employs a significantly wider ratio spread, which allows high-GCM applications to use faster rear axle ratios while still maintaining the required startability. It also offers a much wider range of reverse gear ratios.
Said to be 60kg lighter, thanks to an all-aluminium housing, and with only two synchromesh gears – compared to seven in the existing GRS transmission – Scania says the move to constant-mesh makes its new boxes "shorter and sturdier, with shafts capable of handling more torque. This also enables the use of gears with slightly wider cogs that can handle more load and are more durable".
Meantime, Scania certainly isn't retreating from the front line of diesel development despite a strongly stated intention to pursue a cleaner, greener future.
As Alexander Vlaskamp, Scania's executive vice-president and head of sales and marketing, said in a 2020 press statement announcing the new V8 strategy: "While shifting to fossil-free transport, we must do everything to improve our current solutions."
Or more to the point perhaps: "You cannot let your house burn down simply because a new one is under construction. The transition must be seamless."
Moreover, it's a transition which means delving deeper into existing technologies where, according to Goran Lindh, chief engineer for Scania V8 engines: "There are no quantum leaps … it is all about refining things and adding to the latest technology."
There's also far more to it than simply turning up the fuel wick. In the case of the 770 and its enhancements over the 730, Scania Australia product manager Ben Nye explains there has been a total revamp of the XPI fuel injection system with a new high pressure fuel pump, bigger injectors and compression ratio raised to 19:1. There's also a fixed geometry turbocharger running on ball bearings as well as significant changes to manifolds and an selective catalytic reduction emissions and after-treatment system totally free of exhaust gas recirculation input.
There's more, of course, including new engine management protocols and a truly notable influence in reduced internal friction, which was one of several impressive surprises during our short, but insightful, stint behind the wheel.
Road run
Right now, we're hoping and pushing for a much longer run in Scania's R770 B-double demonstrator. A run, say, from Melbourne to Brisbane, and the reason for the request is to simply spend more time in the Swedish big banger to determine if the model's exceptional muscle and road manners are as evident on a real world linehaul run as they most certainly were in a few short hours between Melbourne and Bendigo.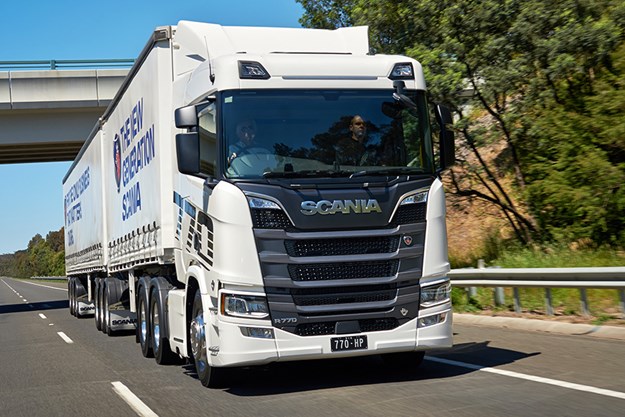 Justifiably, all the talk at the moment is on the V8 flagship's formidable grunt but the raw fact is that there's far more to this truck than the burly block underneath.
Typically, from the moment you climb in, certain things become blatantly obvious. First is the build quality, fit and finish of the modern Scania. First rate! Furthermore, Scania appears to have declined the trend to replace conventional gauges and switchgear with the digital screens and touchpads now in vogue with several of its continental competitors. For us more mature folk, it's nice to see some things remain the same.
That said, it takes a while to forge familiarity with the many buttons, switches and knobs controlling a vast array of functions but, obviously, time and travel eventually overcome any awkwardness. Time and travel do not, however, overcome our biggest bugbear in the form of the least desirable bunk in the premium cab-over class.
However, it now appears a bunk befitting the quality of the truck and the needs of Australia's linehaul drivers is on the horizon. It's early days but sometime this year there's the real likelihood an extended cab will be introduced here, adding a generous 300mm to the depth of the current structure and in the minds of some, ending a distinct deficiency in Scania's suite of sweets.
But there's certainly no deficiency in performance and with Nye sitting in the shotgun seat, the first R770 B-double in the country, with just 1,700km on the clock, was poked into Melbourne's mid-morning bustle weighing in at 62.1 tonnes.
Driving through the overdrive (0.8:1) top gear and a relatively tall 3.07:1 rear axle ratio, the big Swede was quick to show an easy willingness to hold 100km/h around 1,250rpm. And, verifying Scania's claim of reduced friction, the truck revealed an unusually slick propensity to roll freely in gear when the foot came off the throttle.
Yet, even with such potent performance on tap, it would be a mistake to think the R770 expresses itself with dashing displays of brute force or bold ferocity. It is, in fact, quite the opposite, delivering deep reserves of resolve with a metered smoothness and seemingly sympathetic appreciation for the running gear putting such potent performance on the ground.
As was the case with the superseded 730, the 770's hill-crunching torque peak is only available in 10th to 12th gears, delivering a remarkable capacity to maintain relatively high cruise speeds on long grades. Still, even when a hill demands a deeper gear, there's nothing at all timid about 3,500Nm (2,583lb-ft) of torque being dispensed from 1,000 to 1,450rpm all the way from crawler cog through to 9th gear.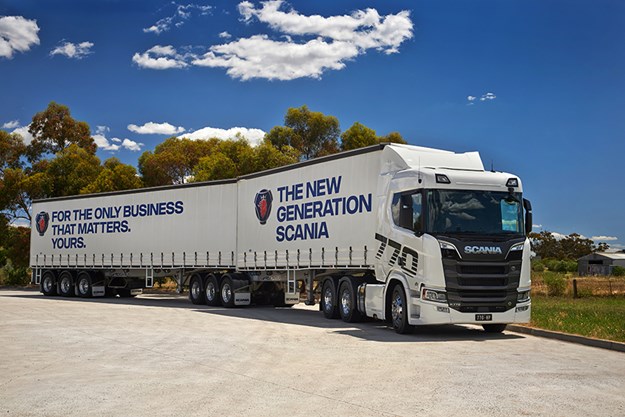 Meanwhile, peak power comes on stream at 1,900rpm and while that's far from a fuel-conscious engine speed, it's when the torque and power graphs are overlaid that the R770's potential for an unmatched mix of performance and fuel efficiency become blatantly evident. Where the lines cross at a twitch under 1,400rpm, the big bore V8 is still pouring out almost 740hp and close to 3,600Nm (2,655lb-ft) of torque, figures which are hugely formidable in any estimation. What this means, obviously enough, is that there's a fountain of fight right where it counts on the fuel front.
At the end of the day, the on-board trip computer revealed a figure of 1.75km/litre, or 4.93mpg. Either way, it's a return which didn't disappoint given such impressive strength from a new truck running at 62.1 tonnes on a route that varied from stuttering suburban traffic to flat freeway and long country grades.
Again, though, we're extremely keen to put the R770 to a longer test in linehaul work where fuel consumption, performance and a number of other factors can be more generally evaluated.
Among those 'other factors' are the 770 model's standard use of an airbag front suspension rated at 7,500kg and an electric steering system. In this short appraisal, both systems managed to quell previous experience that airbag front suspensions tend to be too soft, and electric steering systems tend to be too reactive. In fact, the ride and road handling of the big Scania in this limited exercise were outstanding.
---
RELATED ARTICLE: Volvo and Scania in power play
---
Another standard feature on the R770 definitely worth mentioning is an integrated cab cooler, with Nye explaining that batteries are now in development, which will allow the system to operate fully for up to eight hours without the engine running.
The cooler core is mounted behind the passenger side air deflector and, according to Nye, the unit plumbs fridge air directly through the cab's HVAC vents to keep the cab cool when parked in high temperature areas. Critically, he adds that the integrated system deletes the need for cab 'intrusions or adjustments' to fit an aftermarket cab cooler.
Obviously, brief drives in powerhouse new models such as the R770 are invariably impressive, but it takes time and toil to determine the real merit of any machine.
Nonetheless, there are few trucks in recent years which in our estimation have delivered such a positive impact in such a short exercise as Scania's R770. And sure, we're confident the company will agree to a longer run as part of the model's demonstration duties, but for now it's a matter of 'stay tuned'.
Whatever eventuates, the R770 has the hallmarks of a truck with much more merit than just a big heap of muscle.
Subscribe to our newsletter
Sign up to receive the Owner Driver e-newsletter, digital magazine and other offers we choose to share with you straight to your inbox
You can also follow our updates by liking us on Facebook. 

Trucks For Hire | Forklifts For Hire | Cranes For Hire | Generators For Hire | Transportable Buildings For Hire