Extra eyes on the road with Isuzu N Series
---
Isuzu Australia's market dominance is so potent, so entrenched, that it would probably take a cataclysmic cock-up of its own making to put even a slight dent in the brand's mastery. However, this is an outfit that makes few mistakes and a swathe of safety features on an updated N-series light-duty line-up will simply make the strong stronger, even if it is largely a case of catching up with the competition.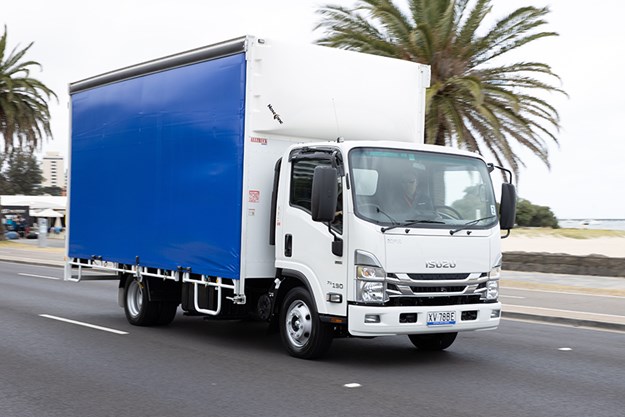 When any brand commands a market as effectively and thoroughly as Isuzu Australia commands the total Australian truck market, it may seem odd to suggest that the introduction of advanced safety features to its most successful model range is largely a move to catch up with the competition.
That, however, is exactly the case with Isuzu's revamped N-series line-up.
Sure, N-series is the undisputed and increasingly historic leader of the light-duty truck market, and so successful are the Japanese maker's lightweights, they account for substantially more Isuzu deliveries than the combined sales of its market leading medium-duty range and popular heavy-duty rigid models.
Figures tell the story with blunt indifference to the hopes and ambitions of any aspiring assailant to the Isuzu crown. In 2021, for instance, Isuzu set a new record for a truck brand by delivering 10,175 units to the Australian market, almost 4000 units ahead of second placegetter Hino. However, the biggest contributor to Isuzu's exceptional market strength comes from a single salient fact: Well over half of all Isuzu deliveries last year – 5593 to be exact – were from its vast N-series light-duty ranks.
So vast, in fact, Isuzu says the latest N-series range offers 61 cab-chassis derivatives and nowadays, more than 35 versions of its remarkably successful Ready-to-Work troupe. If there's a gap in the light-duty market, no matter how slim or seemingly insignificant, it's a fair bet Isuzu has tailored something to fit, either direct from the Japanese factory or a localised adaptation from Isuzu Australia's Product Development Centre within its Melbourne headquarters.
Either way, there's little doubt this policy of offering something for everyone continues to be one of the many factors keeping the brand glued to the top of the overall Australian truck market for the past 33 years in a row. A truly astonishing achievement.
Yet until late last year with the Australian launch of what Isuzu calls its 'Intelligent Safety' system on all N-series 4x2 models, the market leader was well behind its Hino and Fuso competitors in the safety stakes simply because it didn't offer anywhere near the same level of advanced functions as its rivals.
Nonetheless, Isuzu's little league was never in danger of losing its absolute leadership of the light-duty sector; a fact which might cause some to wonder if advanced safety features actually have any significant bearing on sales volumes in a commercial vehicle class where buyers and users are more likely to be tradies or retail and service industry delivery drivers than true truckies.
Whatever, Isuzu Australia national sales manager Les Spaltman concedes the 'Does safety sell?' question is open to a bevy of beliefs and opinions. As for the assertion that most buyers would perhaps decline to pay extra for advanced safety features if they weren't included in the standard spec, he politely suggests it's a hypothetical question because the fact is N-series, in addition to existing features such as driver and passenger airbags, seatbelt pre-tensioners and crash tested cabs, now has a highly advanced safety package as standard equipment.
A system so advanced, in fact, that Isuzu Australia's press blurb describes the revamped N-series as 'the safest Isuzu truck to ever hit Australian roads.' And of course, it wouldn't be complete without its own corporate acronym, namely ADAS, or Advanced Driver Assistance System.
Eyes on the road
Despite being the last of Japan's three powerhouses to implement a comprehensive and technologically advanced safety package in its light-duty line-up, and whatever the reality of the 'Does safety sell?' topic in the commercial vehicle world, Isuzu Australia has unequivocally and somewhat expediently embraced the safety mantra with the introduction of ADAS.
Overdue perhaps, but better late than never according to Isuzu's Japanese research and testing which deems 'the highest incidence of light-duty truck accidents occur at an average speed of 38km/h, making operators in urban high-traffic areas the most likely to be involved in a serious accident with pedestrians, bicyclists and motorcyclists.' Or in simpler terms, the work environments where N-series rules.
Taking the safety subject further into the corporate fold, Isuzu Australia says Japan's findings 'can be tellingly correlated' into its own recently commissioned research 'where road transport businesses listed vehicle safety as a primary concern ahead of issues such as reducing costs or increasing business efficiency.'
Moreover, according to a press statement from Isuzu Australia engineering chief Simon Humphries, "Over 50 percent of Australian operators in road transport record that overall road safety and driver safety are key issues, with this figure increasing to 70 percent for larger fleets.
"The desire for improved safety technology is a real and current concern for our customers, and we are responding to this with product that puts driver and road safety first," Humphries states.
"This is particularly beneficial for businesses working in what we know to be the highest risk of collision – urban and metro areas – in applications such as trades, services, freight and last-mile delivery."
Similarly, Isuzu isn't shy about pointing out a significant point of difference between its ADAS package and competitor systems, specifically the dash-mounted Hitachi Stereo 3D camera which the company describes as 'the eyes behind Isuzu's new ADAS.'
And from the outside looking in, that's exactly what the Hitachi camera appears to be: A pair of eyes scanning the road ahead.
As Isuzu's press statement explains, 'Unlike other trucks in the market that offer a single camera attached to the windscreen (usually at the top) and a radar sensor mounted lower on the cabin face or bumper, Isuzu has mounted the dual-lens Hitachi camera inside the cabin in a central dashboard position that does not obstruct driver view and is not attached to the windscreen.'
Furthermore, Isuzu insists the dual-lens design and mid-level mounting atop the dash give the camera a '… superior field of vision to detect lower-height objects while in motion' and subsequently provide the necessary inputs for a high-tech safety system comprising …
• Advanced Emergency Braking and Forward Collision Warning
• Lane Departure Warning
• Traffic Movement Warning
• Distance Warning System, and
• Auto Lighting System.
Defining the merits of each function, Isuzu says its 'Advanced Emergency Braking system with Forward Collision Warning (FCW) works by way of the dual optical sensor camera, which monitors the environment in front of the truck. It can detect and determine the distance of three-dimensional objects such as vehicles, pedestrians, bicycles and other objects that appear in front of the truck.
'If the FCW system determines a collision is likely and depending on the circumstances and severity of the situation, the system will respond with either audible and visual alerts, or autonomous activation of the vehicle's brakes.
'Under normal operating conditions the system is designed to avoid a collision with a speed difference up to 50 km per hour and can reduce the risk of a collision impact for higher speed differential​s, even at night.'
Additionally, Isuzu states, 'Similar to systems found in many modern passenger cars, Isuzu's Lane Departure Warning works via sensors that detect and monitor the vehicle's trajectory in relation to lane markings on roads or the road edge itself, providing audible and visual alarms for the driver if the vehicle begins to wander out of the lane marking or over the road edge.'
As for its Distance Warning System (DWS), Isuzu claims it is a feature unique to the N-series package, designed '… to ensure the truck operator is travelling at a safe distance from the vehicle ahead.
'Allowing drivers to pre-set a desired minimum distance (depending on application or environment), the DWS will alert drivers with a subtle visual warning on the dash when an unsafe distance is detected. The system has been programmed to only activate when speeds exceed 30km per hour, which is particularly useful for highway driving and prevents spurious warnings in situations such as traffic jams.'
Meantime, the company adds that operators stuck in heavy traffic or working in metro areas '… will also appreciate the Traffic Movement Warning (TMW) system, another feature unique to Isuzu's ADAS (which) monitors stationary vehicles ahead and will alert the driver with a clear but subtle warning sound when forward traffic movement is detected more than five metres from a truck's stopped position.'
Finally, there's the Auto Lighting System (ALS) which, when activated by the driver, automatically adjusts headlight and tail-light brightness to suit changes in ambient light conditions.
Fortunately, none of the safety systems – other than the gratefully subtle Lane Departure Warning beeper – were put to the test during a few hours behind the wheel of an NPR 75-190 single cab model in company with Isuzu Australia's likeably pragmatic sales chief, Les Spaltman.
On the run
While several narrow and wide-cab N-series models in single and dual-cab form, including 'Ready to Work' derivatives, were offered for a test drive in and around Melbourne's western rim, the versatile NPR 75-190 was an easy choice.
First, it's a popular model with a gross vehicle mass (GVM) rating of 7.5 tonnes powered by a 190hp (or thereabouts) version of Isuzu's durable 4HK1 5.2 litre four cylinder turbocharged engine coupled to Isuzu's six-speed automated manual transmission (AMT). Second, the truck was fitted with a curtain-sided body and was the only one of the offerings with at least a partial load, providing a guesstimated gross weight of five tonnes or thereabouts.
---
RELATED ARTICLE: Isuzu laments missing link
---
It's also worth noting the body width allowed for two pallets side-by-side which in trucks of this size means the body is wider than both the cab and rear wheel track. On roundabouts and the like, the effect on stability can be interesting.
There is, however, more to the updated N-series than ADAS with its peering 'eyes' on top of the dash. As Isuzu tells it, 'Additional updates include an interior revamp in seat cover material and cabin appointments, and a new exterior lamp assembly with prominent fog lamps giving the new range a distinctly different forward appearance.
'Behind the dashboard also comes a new CAN converter circuit and connector, making it a simple exercise to fit a fleet management or telematics system.'
Also, all models in the latest line-up have towing capacities increased by at least 500kg, allowing a 4500kg tow rating on NPR, NQR and NPS models with the 4HK1 engine, and 4000kg on all other models.
On some models, a 'customisable speed limiter' – with maximum speed set by an Isuzu dealership – is another part of the repackaged N-series range, along with what Isuzu describes as a 'long-awaited suspension seat in selected narrow cab models.'
Down the track, Isuzu says it is well ahead with plans to expand the N-series line-up even further, including a new three-way tipper for the Ready-to-Work range.
Understandably, confidence is running high that with an advanced safety package finally in its armoury, N-series is primed to etch its light-duty dominance even deeper into the market.
However, as Les Spaltman remarked, perhaps Isuzu's greatest confidence is seen in the warranty applying to all N-series 4x2 models, covered by a six-year/250,000 km factory warranty, six years of roadside assistance, and a comprehensive three-year warranty on pre-built bodies.
"I genuinely believe one of our greatest assets is the way we look after customers," Les asserted, quickly adding, "Our biggest mistake would be to take something for granted, especially our customers."
Meantime, the NPR test truck went about its work with no fuss. In a jaunt of just 150km, it coped easily with short stints among intermittent traffic flows, suburban streets, country backroads and fast freeways. At the end of the day, with just 1000km on the clock and driven with little regard for fuel consumption, the truck returned a respectable figure of 5.7km/litre, or 16.1mpg for us more mature folk.
Performance of the utilitarian 4HK1 engine was certainly acceptable under the various conditions but its combination with Isuzu's six-speed AMT shifter was the standout feature. Engine and transmission are ideally matched and while shifts through the automated box are not as crisp and responsive as a fully automatic transmission, evolution has certainly made it smoother and sharper than earlier versions.
Finally, and despite all the obvious positives, including the easy control functions for the various operational and safety features, there's one safety aspect that seems to consistently escape the attention of some truck makers, Isuzu included. Mirrors!
It's not that the mirrors on Isuzu's N-series don't provide an entirely appropriate and expansive view to the side and rear of the vehicle. It's just that in the quest to provide that view, designers have developed mirror housings so large that in certain conditions – most notably, roundabouts – the driver's right side line of sight is impeded by the size and position of the mirrors.
Again, Isuzu isn't alone in this trait but it's worth emphasising that while advanced technology plays a vital role in minimising accidents and injury, ultimate safety requires a broad view, literally and physically.
Subscribe to our newsletter
Sign up to receive the Owner Driver e-newsletter, digital magazine and other offers we choose to share with you straight to your inbox
You can also follow our updates by liking us on Facebook. 

Trucks For Hire | Forklifts For Hire | Cranes For Hire | Generators For Hire | Transportable Buildings For Hire