Western Star's decade in the doldrums appears done and dusted following the recent launch of its exciting new X-series range. True, it could be a hard road back after languishing for so long on the fringes of truck sales charts but on first impressions, the three-pronged X-series line-up of 47X, 48X and 49X models has the specification, the features and the versatility to blast Western Star into a bold new era.
Penske people must be a patient lot, especially in our part of the world. For the best part of a decade, they've waited and waited, and waited some more, for their Star to do what stars generally do best – shine brightly!
Yet, for reasons seemingly mired in a motley mix of corporate complexity and fiscal fate, Western Star has largely failed to fire since 2013. That was the year, of course, when charismatic motoring mogul and billionaire businessman Roger Penske secured Western Star in the $219 million purchase of Transpacific's commercial vehicle group. Ever since, the brand has slid steadily to the lowest rungs on the heavy-duty sales ladder.
As the saying goes though, 'all good things come to those who wait' and for Penske Australia, the waiting game is finally over following the recent launch of Western Star's much anticipated X-series range. Indeed, not since the local release of Western Star's abidingly revered Constellation models almost 25 years ago when the brand was still under the ownership of the fiercely astute Terry Peabody, has there been so much justifiable excitement, expectation and even emotion surrounding the arrival of a new Star.
Then again, as exuberant Penske Australia executives were quick to emphasise at Brisbane's Mt Cotton mobility centre during the most comprehensive and professional new model launch attended in several years, the X-series is like no other Western Star before it. Nor, they insist, has any Western Star ever been tested to the same extent as X-series and equally, no Western Star range has ever had the potential to cover so many applications as X-series.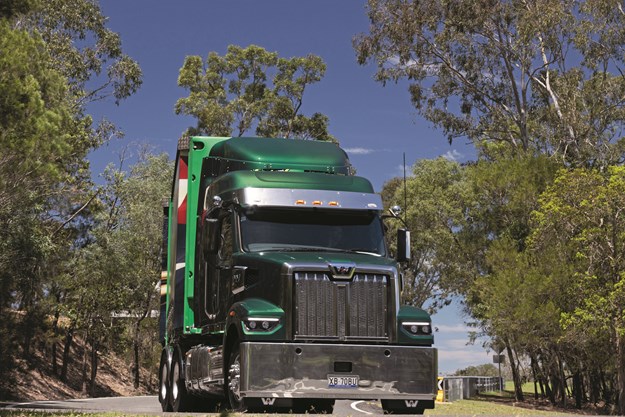 Put simply, the platform has been poured for arguably the most ambitious and competitive assault on the heavy-duty conventional truck market seen in a long time, and with it, the most dynamic period since Western Star first hit the Australian market almost 40 years ago.
Nonetheless, it has been a laboriously long wait and despite Western Star's entrenched reputation as a tough and proven product in Australian conditions, Penske Australia has plenty of rebuilding to do with an X-series line-up so distinctly different from its forebears. Again though, the emphasis at Mt Cotton was firmly on citing Star's long experience in the Australian market and the fact that this new range has undergone more intense testing than any of its predecessors.
Obviously enough, most of the testing was done in the US but as several Penske operatives mentioned, pre-production units accumulated around 200,000km on Australian roads prior to the new line-up's release.
It's now six years since Daimler Trucks North America (DTNA) started its $100 million development of an entirely new Western Star range, and around two years since the new trucks debuted on the North American market. Flippantly perhaps, DTNA international sales manager for Western Star, Greg Robinson, defined the extended delay in X-series' launch here as simply, "Saving the best for last."
There could, however, be some merit in taking so long to reach Australia. Right-hand drive was an integral part of the X-series development program from the outset and in what appeared a willing concession to the Australian market's historic ability to extract durability issues that exist nowhere else in the world, Greg quickly added, "We went to extreme measures to ensure success."
Whatever the delays, Penske Australia personnel are undeniably ecstatic that the new trucks have finally arrived. In separate presentations to assembled media, managing director Hamish Christie-Johnston, executive general manager Craig Lee and head of Western Star Trucks, Kurt Dein, could not hide their delight that finally, the days of competing with a tired, limited and increasingly uncompetitive model range are now in the past.
"This is not a tweak or a rebranding exercise," said an emphatic Craig Lee. "It is a completely new product (and) we're now able to compete in segments we've not been in before." Citing the days when Western Star comfortably sold more than 1000 trucks a year with a relatively narrow model range, a boldly confident Lee enthused, "Double digit sales are the goal."
For Kurt Dein, 'X' indelibly marks the spot where Western Star fires back to life, resuming its place at the sharp end of the heavy-duty conventional truck class. "This is what Western Star should be," he said with unbridled enthusiasm. "Something it hasn't been for a long time."
As for the long delay reaching the Australian market, the time wasn't wasted according to a resolute Dein. "These aren't the trucks launched in the US two years ago. These are unique to Australia," he declared, referring particularly to the 48X model developed exclusively for Australia and more broadly, the use of the latest Detroit DD13 and DD16 engines feeding into the Detroit (Daimler) DT12 12-speed automated transmission, and critically, the standard inclusion of the advanced safety systems already established in corporate cousins Freightliner Cascadia and Mercedes-Benz.
Moreover, the last few years have only added to the reputations for solid performance and thrifty fuel consumption of equivalent DD13 and DD16 engines in Freightliner and Mercedes-Benz models.
It is, however, the versatility of X-series which gives the new range its greatest opportunities, a point certainly not lost on Western Star veteran Doug Shand. In the early '80s, his late father Bob Shand was instrumental in bringing Western Star to Australia in the wake of White's demise and despite a self-confessed 'gap year' before recently returning to Penske Australia, Doug's involvement with Western Star has few, if any, equals.
With quiet conviction, he views X-series as the most exciting development to ever emerge from the Western Star stable, with an unrivalled depth of versatility to fit a multitude of tasks.
What's more, the versatility stems from more than a Daimler Truck powertrain. As Craig Lee explained in a media statement on the new range, "We have passionate Western Star enthusiasts who will want a 49X with the 600hp Detroit DD16, drum brakes, spring suspension, and an Eaton Fuller manual transmission, and we can deliver that.
"On the other side of that, for a fleet operator after a 47X or 48X to haul B-doubles with Detroit's DT12 transmission and all the advanced telematics that come with that, we can deliver that too."
Moreover, "The Detroit DD13 13 litre engine in the 47X and 48X also opens up new markets for Western Star, such as local distribution or B-double intrastate."
The range
From the outside, there's no doubting it's a Western Star. Designers have, in fact, done a good job of styling all three X-series models with the bold, strong appearance typifying a traditional US conventional rather than the sleek, softer contours of a slippery wind-cheater.
Yet while looks largely depend on individual tastes, there's no denying that big beaks with gutsy stainless steel grilles and classy air intakes each side of the hood impart the message of working class toughness on which so much of Western Star's heritage is based. That's not to suggest X-series' mildly drooping snouts and sloping guards aren't concessions, however slight, to aero efficiency but it nonetheless highlights the design goal to maintain Western Star's long established identity as a true toiler.
Whatever the view though, there's far more to the X-series line-up than meets the eye, starting with the 47X.
Unlike the limited specification and subsequently limited potential of the previous 4700 model, the 47X will almost certainly break new ground for Western Star in this country for a wide range of reasons. 
With a set-back front axle and compact 2835mm (111.6 in.) bumper to back-of-cab (BBC) dimension, it comes as a 6×4 and mid-way through 2023, will be available in 8×4 and 10×4 layouts. The big gain, however, is the availability of the latest DD13 Gen 5 engine with up to 525hp and 1850lb-ft of torque in addition to the lightweight Cummins ISL 9.0 litre engine with up to 380hp and 1255lb-ft of torque.
The introduction of the DD13 provides the 47X with the muscle to push gross combination mass (GCM) up to 72.5 tonnes and therefore, B-double and heavy truck 'n dog duties. Even so, the model's potential to cover a long list of rigid and prime mover workloads is further enhanced by the choice of the DT12 automated 12-speed overdrive transmission in either standard OV or extreme OVX form, an 18-speed Eaton Fuller manual box, or an Allison automatic.
As well as a standard day cab, there's also a range of three sleepers – a 36 inch model in a low-line trench style (meaning an indented roofline to minimise the height of additions such as air horns and marker lights) or 36 and 48 inch versions with a mid-height roofline which provides standing room. 
Yet as potent as the potential is for the 47X, it's the 48X which seemed to excite Penske people the most.
As several insiders emphasised, this is the truck built purposely for the Australian market, with no US counterpart, and the truck they believe will put Western Star firmly back on the linehaul B-double map. And from all appearances, their optimism and excitement are not misplaced.
With a set-forward front axle and trim 2883mm (113.5 inch) BBC, the 48X is a 6×4 prime mover specification with the choice of the DD13 engine up to 525hp or the turbo-compound DD16 with up to 600hp and 2050lb-ft of torque, coupled to either the standard DT12-OV automated shifter or the higher torque rating of its OVX counterpart, or an Eaton 18-speed manual. 
While the DD13 version has a GCM of 72.5 tonnes, the DD16 takes the 48X to a GCM limit of 106 tonnes.
Slimline cabs come with the choice of standard flat or trench-style rooflines while sleepers range from 36 inch models with either a low trench roofline or a stand-up mid-roof design. Importantly for B-double work, the bumper to back-of-sleeper length with the 36 inch shed is 3567mm but for those wanting a bigger sleeper, there are also 48 inch and 60 inch high-roof versions.
From any angle, it's obvious Western Star's local leaders have worked closely with their US colleagues to tailor a 48X model specifically for Australia's linehaul B-double market. It is a smart spec.
The big boy of the bunch is the 49X which effectively replaces the former 6900 model which was, of course, Western Star's roadtrain and heavy haulage specialist. Moreover, it's apparent the 49X has a specification to step neatly into the former flagship's shoes even with a significantly shorter BBC of 3085mm, or 121.5 inches.
With a standard GCM rating of 140 tonnes and the ability to be rated up to 200-plus tonnes with engineering approval, the 49X is available in 6×4 and 8×6 (tri-drive) configurations, punched by the DD16 engine through either the DT12 automated transmission or Eaton's 18-speed manual 'box.
As for sleepers, it's top-shelf only, starting with 60 and 72-inch mid-roof models and the grandest of all, the high-rise 72 inch Stratosphere. For the less ostentatious, a 48 inch version is likely to be added in 2023. There is, however, much more to the new X-series than the relatively brief details reported here.
A closer look
Western Star events are exceedingly rare and with a long awaited, once-in-a-generation launch of an entirely new model range, Penske Australia wasn't about to let the moment slide by without plenty of facts and fanfare. Indeed, the recent X-series launch was exceptional in both detail and delivery, with a range of loaded models and configurations available for stints around the Mt Cotton circuit and vitally, concise explanations of the many new features that make these trucks so uniquely and decidedly different to their forebears.
The only thing missing, perhaps, was a high-ranking executive from either Daimler Trucks or one of Penske's US powerbrokers, maybe even Roger himself. After all, X-series is more a Daimler Trucks North America creation than any previous Western Star, while its critical importance to Penske Australia is no more pronounced than in the assertion that there's probably no market in the world which will verify the engineering integrity and build quality more than Australia. Still, the local blokes did a top job of launching an altogether appealing family of new Stars.
Even so, there's not a lot to be gained meandering around Mt Cotton's well-known circuit other than revealing a snapshot of some features. Like, good driving position and handling, a smooth drivetrain, a quiet cab – but not so quiet to completely deaden the healthy hum from under the snout – good vision through a broad single-piece windscreen and new mirrors, and the absolute worth of a standard hill-hold function.
First up, it's an easy climb through doors that open 70 degrees with ample access handles and ideal tank steps leading into a neat and practical cab built around a steel reinforced aluminium frame. As Western Star states, it's all-new and designed from scratch to be 'lighter, safer, stronger and more spacious than any Western Star cab before'.
It is, however, on the inside where DTNA's corporate identity and component amortisation are stitched most obviously and predictably into the new Star. The dash, the switchgear, the digital gauge and overall instrument layout, the steering wheel, are all from the same DTNA suite as Freightliner Cascadia. The similarities are stark, but that certainly isn't a bad thing, particularly when it includes the standard features of the comprehensive Detroit Assurance safety package. Like early Cascadia versions though, these first new Stars hadn't yet been fitted with a steering wheel airbag.
Still, some Western Star traditionalists – and there are no doubt plenty in Australia's trucking population – may rue the absence of former traits in plush trim and driver-inspired detail but overall, designers and engineers appear to have done an efficient job of merging corporate concessions into a highly versatile model range with durability as the stated core of construction.
Front to back, inside and out, the only thing that appears to carry over from the outgoing model is the badge on the beak and it all starts with what Western Star describes as 'pioneering high strength single channel chassis rails' splayed at the front to enhance engine and radiator fitment.
Importantly, all three models are said to use 'an all-new robust routing and clipping design which keeps air lines and wiring harnesses away from the frame'.
On the design and effectiveness of the cooling system, Penske Australia regional business manager Derek Schroff explained that the radiator is engine mounted rather than chassis mounted to resist torsional stresses, with the DD13 using a 1400 square inch radiator and 1600 square inch with the DD16. Or as a candid Doug Shand remarked, "If the truck can pull it, it can cool it."
Still on cooling, it's worth noting that to accommodate the DD16 and equally, enhance the discharge of hot air from under the cab, the 48X model stands 100mm higher above the chassis than its 47X and 49X siblings.
The sloping hood on all models also warrants mention, Derek Schroff continued. Made from a moulded and robotically sealed resin said to be stronger and close to 50kg lighter than previous designs, the hood is isolated from road shocks by being mounted on what Western Star says is its exclusive 'ISO Tech' bonnet suspension system, and gratefully, there's an assistance strut to make it a light and easy one-man lift.
At the front though, it's hard to see the locally made bumper slab on 48X and 49X models having anything other than a negative effect on fuel economy. Penske operatives say it's due to the set-forward front axle of the two models restricting a more subtle shape but surely, somewhere in the engineering brains trust that created these trucks, there's a more efficient alternative.
Meantime, customisation remains an integral part of the Western Star portfolio. Aluminium fuel tanks, for instance, are offered in round and square designs, the former in individual capacities from 227 to 567 litres and the latter in 360 to 775 litre capacities. 
Likewise, AdBlue tanks come in 30, 49, 87 and 200 litre sizes and in all cases are mounted in a forward position on the left-hand side of the chassis frame. 
Exhaust options include single and dual cab-mounted vertical stacks, dual frame-mounted pipes on sleepers, and on the right-hand side, an under-step after-treatment system with horizontal exhaust.
Up front, Dana and Meritor steer axles are available, including twin-steer combinations for upcoming 47X eight-wheeler and 10×4 models, while at the back are tandem and tri-drive assemblies also from Dana and Meritor.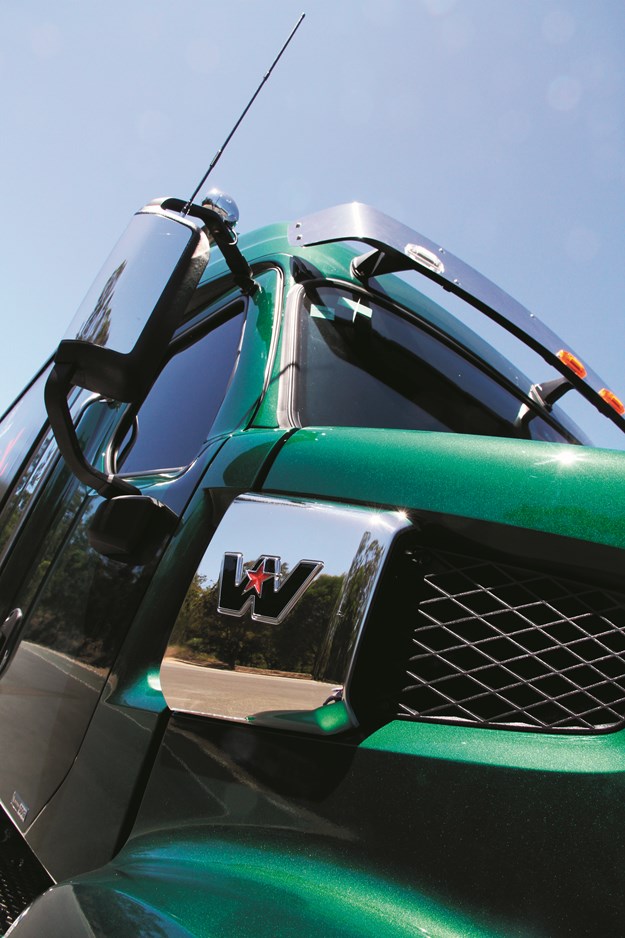 A comprehensive rear suspension line-up includes DTNA's AirLiner assembly as well as Neway's ADZ air suspension, Hendrickson's air-ride Primaax EX and its severe-duty Ultimaax mechanical stablemate, and DTNA's rubber block TufTrac assembly.
For now, that's the broad detail on Western Star's X-series and before much longer, we hope to put several models through their paces in real world workouts. 
In the interim, it's surprisingly easy to suggest this new line-up is the complete transformation desperately needed to dispose of the mediocrity which over almost a decade, has seen Western Star's hard won notoriety and reputation slide to the edge of insignificance.
Simply stated, the might of Daimler Trucks North America has breathed new life into Western Star. The job now is for the highest echelons of the Penske organisation to ensure the dedicated and determined people who run the Australian operation are equipped with the ongoing support and enterprise to ensure this new Star does what it is so obviously designed to do – shine brightly! 
For more of Steve Brook's industry analysis, grab a copy of OwnerDriver magazine's December edition.

Photography: Steve Brooks, Western Star